SOME FES HISTORY
BEACHCLEANING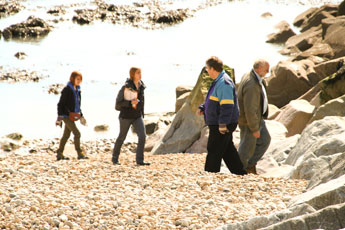 FES adopted Rottingdean in the national Adopt-A-Beach Campaign administered by the Marine Conservation Society because it was a Site of Special Scientific Interest (SSSI). The Wildlife Zone then organised the Foundation's beach-cleaning days at Rottingdean Beach near Brighton for over 15 years.
The team analyzed and evaluated the data and found that over the 15 years the litter has got worse and that the government must do something about the causes of the burgeoning problem.
By systematically and diligently beach cleaning and recording all data, of man made rubbish FES built up numerical pictures for every Spring, Summer, Autumn or Winter for 15 years.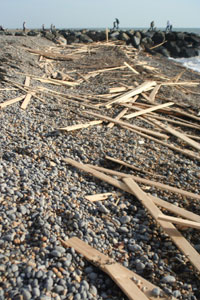 The whole idea of beach-cleaning is to stop pollution by tackling the problem at its source. This means firmly and scientifically establishing what type of peoples or industry is responsible for creating the rubbish on Rottingdean Beach. Looking at our records we have found that it usually comes from seven different sources; public, fishing, shipping, sewage related debris, medical, fly tipping and some non-sourced materials.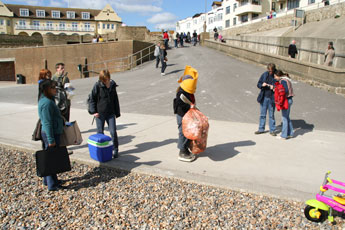 By having one and a half decades of precise data, it is also possible to compare and contrast Rottingdean with nearby beaches or others elsewhere in the country. However, this will depend on the exact findings the other beaches have, if any.
In addition to beach cleaning whilst we were on the shoreline, we also undertook other marine issues such as monitoring shells, egg cases and mermaid's purses which we found on the beach. We reported stranded or washed-up animals such as jellyfish, dogfish and dead birds to the MCS. Moreover, FES volunteers also look out for basking sharks, turtle tracks, birds and other wildlife sightings which were then reported to other relevant organisations.
During our decade and a half of beach cleaning and wildlife monitoring we found that this part of the coast has resident populations of seahorses, as specimens have been washed up on the beach and in the nearby marina. Unfortunately in the past our own Seahorse Plan has been hampered by a lack of funding although we are now trying to put wrong matters right.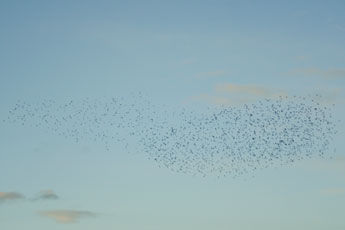 The Wildlife Zone will be publishing Beach-Cleaning, a book of the scientific data which we have collected. This will give clarity and will draw numerical pictures of what has been happening on the site, whether they are good or bad, so that we can advise a proper plan of action to make the SSSI a better place for people and wildlife. We also organised UK expeditions where we had a look at the state of other beaches around the mainland. We then compared them and made notes about their differences.
In 2015 the European Commission asked Britain to continue its beach-cleaning in a slightly different project called 'The Great British Beach Clean', FES decided to be part of this 3 year project as representatives of the South East region, cleaning the beach in every quarter, with similar guidelines.
Re-introducing Indigenous Animals
The Great Bustard
These giant birds became extinct in the British countryside in the 1830s due to overhunting. The UK is obliged under EU legislation to reintroduce animals when and where it is appropriate. Based on a 2003 feasibility study, DEFRA granted a licence for a 10 year reintroduction trial period. Since then the Great Bustard project has been working in Salisbury Plain, Somerset. After a difficult start to the programme, young Bustards had some success and have finally established quite a few breeding pairs.
Male Bustards are about a third larger than females, reaching up to one metre tall and weighing up to about 16 kilos, making them the heaviest flying bird in the world. They live for up to 20 years, so those that do make it through the first year (when up to 4 out of 5 die) could be expected to breed prolifically. However when they are adults, males have a higher mortality rate than females, possibly due to them fighting for breeding 'rights'.
FES will continue to monitor the birds' progress until viable populations secures its long term survival. By doing so, FES advocates developing other Great Bustard colonies in different parts of Britain, especially in our grasslands
Red Kite
The Red Kite's reintroduction project has been a spectacular success in most appropriate parts of the British countryside after 20 years.
A Red Kite can be identified by its forked tail, its finger tipped wings and its cream and rusty red markings, particularly when it flies overhead. The only bird which it could get mixed up with is the Buzzard, another raptor of a similar size; however their differences are easily seen upon closer inspection.
FES monitored Red Kites in England, Scotland and Wales with organised walks, with some being in the Chiltern Hills where a group of over 20 volunteers saw as many as 34 birds in the sky at one time. The charity has also witnessed their range steadily increase over the years from the Oxford - Buckinghamshire border to the urban areas of Uxbridge and North West London. They have even been seen flying regularly over the wildlife garden at the registered offices at Millstream Fork.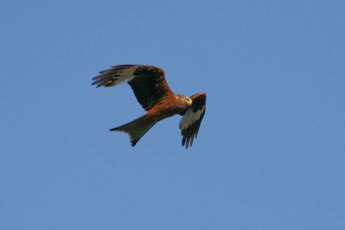 Despite these reintroduction successes some kites have been killed by gamekeepers. Persecution continues because birds of prey sometimes feed on smaller birds and can be seen as competition by estate owners for their shooting of game, such as pheasants and partridge.
Despite these reintroduction successes some kites have been killed by gamekeepers. Persecution continues because birds of prey sometimes feed on smaller birds and can be seen as competition by estate owners for their shooting of game, such as pheasants and partridge.
FES is a member of the Partnership for Action Against Wildlife Crime (PAW), and opposes such persecution and other illegal activities that continues in less policed rural areas, especially on large estates. Persecution is widespread on grouse moorlands especially in England. It is why a beautiful raptor, the Hen Harrier is so rare, but which should be far more common. The Wildlife Zone has also published articles on the Red Kite and will re-edit them for an anthology of feature articles entitled The Chronicles of a Conservationist.
The Wild Boar
The Wild Boar first became extinct in Britain about 700 years ago, but was reintroduced for hunting purposes. They lasted for another 400 years, but became extinct for th second time in about 1700, once again because of over hunting.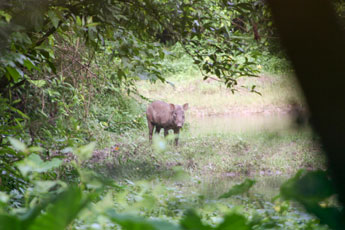 A Wild Boar species in Nepal.
Now the shy Wild Boar lives in certain parts of the British countryside again such as the New Forest and the Forest of Dean. This is not because of a planned reintroduction programme, but as a result of being descendants from farm escapees.
Because the Boar eats crops, they are considered a pest, as is any animal that compromises people's self interests, however small that interest may be. Even so, in the bigger picture FES believes that Boar benefits the countryside is that they turnover the soil in their search for roots and so prepare the ground for natural forest regeneration.
Despite this benefit, the government allows uninhibited hunting of Boar, including pregnant and lactating sows: this reduces the chances of separate colonies being established or maintained throughout the country. Unlimited hunting is how the Wild Boar became extinct in the past and may be the most convenient way for the government or its agencies to eradicate them again.
FES does not subscribe to any hidden agendas or ulterior motives but prefers to have our Boar colonies guaranteed. The survival of the species could eventually lead to proper 'harvesting' of the population excess in the long term for controlled and resourceful hunting. Another proposal which FES prefers is the re-introduction of its natural predators (see elsewhere). Furthermore, the government can also relieve any fiscal or agricultural problems with a sound and sensible compensation scheme.
In the future, FES may well have to overcome some government agencies claim that what we have is not Wild Boar, but a hybrid of Boar and domestic pigs. Secondly their opposition is also claimed to be about 'pathogens' which is controversial. Many people oppose this posture because they think that if it looks like a duck, sounds like a duck and walks like a duck....
The Pool Frog
The Pool Frog became extinct in Britain in the 1990s because of human disturbance and destruction of their East Anglian ponds. They have been successfully reintroduced from frogspawn brought in from Sweden. The Species Recovery Programme by Natural England originally reintroduced them to Norfolk. Since then, they have survived and have bred in other parts of England.
Many conservationists, including FES fear the deadly chytridiomycosis fungal disease which is sweeping across the planet. This awful disease has already pushed many species of amphibians into extinction. Whilst chytridiomycosis is in Britain and has killed many amphibians, it has not yet affected the Pool Frog.
Predators such as grass snakes and birds such as herons may take some individuals, but it is humans which will probably have another major negative impact on their survival chances.
The Large Blue Butterfly
Large Blue Butterflies are usually identified in their handful of habitats in southern England by their markings. As this name suggests, they are mostly blue but also have unique speckled black dots on their wings. They are becoming scarcer in many areas of Europe, and are classified as 'critically endangered' in Britain.
Throughout Europe's mountainous regions and cooler areas the similar butterflies prefers to eat wild thyme and in warmer habitats it's marjoram. Fertilized Arcon Blue females will only lay their eggs on the two plants because their caterpillars will feed solely on them until their third moult.
Then an extraordinary thing happens, which is similar to the Arcon Blue Butterfly lifestyle that FES and another group worked on in the mountainous national parks of Portugal (in this case the butterfly used the gentium plant). This habitat management in Alvao meant clearing away outgrowing plants to favour gentium.
When the Large Blue caterpillar had fulfilled its life cycle as an eating machine, it falls from the plant onto the ground and waits for red ants to arrive. When they do, the ants take the caterpillar into its nest where it eats the ants' eggs and larvae. In the following summer (if all has gone well with such things as hibernation) the butterfly will emerge to find a mate. Then the annual process starts again. Many people are fascinated with this type of life cycle which adds another dimension to British biodiversity.
The History of the Wildlife Zone.
Broadwater
In his regular activities he was monitoring the reserve for the Trust to make sure that everything was as it should have been. One of his other jobs was to help plant reedbeds which would help increase the area's biodiversity.
He also surveyed the wildlife for FES which was diverse, and found that bitterns had returned to the area. This was a great moment because it also meant that the reedbeds had attracted this scarce member of the heron family.
Andy also wrote articles which aimed to protect the reserve from the maximum amount of destruction caused by HS2.
Two views of Broadwater where Andy was the Nature Reserve Warden for 10 years.