Feral Animals in the UK
Why we support certain animals
There are two non-native creatures that have successfully adapted to conditions in the UK, and may even be starting on the long evolutionary path to becoming a sub-species. FES supports these animals as they cause little or no harm or damage to native wildlife, and are deemed not to be invasive species. However, many animal organizations are too scared to defend any feral species because it is such a contentious issue.
Furthermore, as these animals do not feature in the United Kingdom Biodiversity Action Plan (UKBAP) FES is prepared to give them a voice and represent their cause. The Foundation for Endangered Species believes that at least two UK feral species - the scorpion and the red-necked wallaby - needed someone to protect them and promote their interests. This is because FES protects and promotes the natural and physical environment, and our biodiversity.
However, like most other conservationists FES are aware of how feral species can develop into invasive species and create harm and chaos. This is because many successive UK governments have not spent enough time, effort or money on monitoring and surveying certain animals in the past. The consequences are that some feral species have become invasive and have hurt indigenous wildlife. The authorities now create 'shortcuts', using scaremongering and prejudicial fear for policy making tactics instead of gaining more genuine scientific evidence.
Scorpion
Many

people are surprised to hear that scorpions have been living in the UK for about 120 years. The scorpion is neither cute nor cuddly and gains little support. However, FES regard it as a benign creature. Moreover, it is an important and interesting animal that has increased the UK's biodiversity without having any known major negative effects. The FES Scorpion Plan is a long-term programme that focuses on protecting existing scorpion colonies, as well as raising and increasing public support for the animal.


---
Red-necked wallaby
The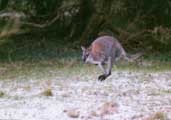 red-necked wallaby has existed in the UK for several decades. However, there has been no major organisation willing to champion its cause and fight for its continued survival. Therefore FES has taken up its defence.
Andy Mydellton announced FES defence of the wallaby on the Richard Hammond Television Show, where he launched the first ever UK feral wallaby census. The initiative was a great success and produced some surprising results. Understandably, however, making some of these sensitive details public might not be in the best interests of the species.
---
Parakeets
As well as these two animals, there are also two species of parakeets living in the wild. There is a big controversy about the General Licence issued for both Ring Necked Parakeets and Monk Parakeets. Whether this is a controlling measure or a surreptitious extermination policy worries causes concern. For it could be possible for extermination to take place with the authorities enjoying a fait accompli success. However, this would be a dishonest action plan, especially as the evidence in each case study is debatable. For more information about this issue, see Conserving Wildlife editions 8 and 9 (ISSN 1757-7411. contact us for a copy, if necessary).
The major points outlined on this page have been translated into Nepalese and this is available to download in document form here -->>