JAGUAR CONSERVATION
The Foundation For Endangered Species has formed a partnership with the Jaguar Conservation Fund (JCF) in the Pantanal area of Brazil. This came about when Andy was there at the same time as the field officers had tranquillised a young female Jaguar that was known to the group. Andy joined the local Conservationists as they fixed the radio collar onto the animal to track its movements for the next few years. Whilst it was sedated the biologists (lead by Cyntia Kashivakura) gave it a complete health-check before re-releasing it safely back into the wild, Andy also checked its teeth and claws in particular, as these are so important for all predators who need to be in top condition in order to track and catch its prey. The animal was also intensively photographed, as each individual has its own unique markings and so can be recognised by sight alone, by this team of experts.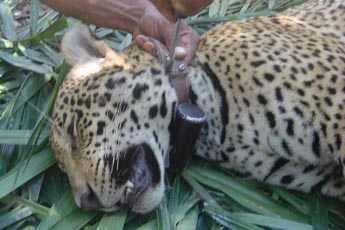 Leandro Silveira runs the operations but needs help from the outside world in order to maximise the teams' impact in this important part of wildlife conservation. The JCF is in the frontline of action and is in the field with a 'hands on' portfolio of activities. Their work and position in the world is always vital as the Brazilian Conservationists are often left alone to fulfil their tasks by a largely uneducated society in these issues. This fabulous animal should not just be protected by this generation of field conservationists, so it is up to us to raise international support for this and other wild animals. Otherwise their sacrificial lifestyle that these workers have adopted could still come to nothing in the longer term. Therefore we must 'raise awareness' to prevent the next generation lapsing into old ideas of re-persecuting this magnificent beast once more. This is where the long-term effects of our work must be made solid.
The Jaguar is one of the most important animals in the world and this Project in Brazil has the highest international priority that we deal with. As a result the Foundation is helping to raise funds from the UK, and elsewhere, whenever possible. Moreover as the Foundation specialises over time, the charity will develop tasks that will hopefully be of further use for this partnership. We are only too aware that we all have this golden opportunity to save this iconic species from total destruction. Furthermore we know that if we can save the habitat of this indicator species, we will then save the whole eco-system cohabit under this umbrella of protection.
So funding is a key issue here, as money is also desperately needed by the project to continue their urgent work. Andy is approaching government bodies and other fundraisers. As well as this the Foundation has its own independent schemes that allows everyone to become stakeholders and to become involved at a very personal level. As Andy is a radio broadcaster with the Andy Mydellton Wildlife Zone, he has already given this project priority due to its worldwide importance and of the projects' potential to protect other species the co-exist in the same habitat. Recently Andy was featured on Cookham SFM where he recounted his experiences in the Pantanal and spoke of the Jaguar Conservation Fund's work. Andy is also writing articles for publication to gain international awareness as this compliments the scientific and biological work done in the fields of the Pantanal.
Even so, the true beauty of this animal is its' power and feline grace that is also now its own enemy. This is because so many people word-wide want to own one as a pet, or to wear its fur as coats and other clothing. Therefore unscrupulous hunters and illegal traders put an expensive tariff on its head; furthermore international trafficking and smuggling is rife which all add up to death for many individual animals. The Foundation is a member of PAW and we are trying to get everyone's attention to the plight of the Jaguar, and to help other law enforcers to help protect the animal under CITES. Education plays an important part here too, so Andy's role in Earth Charter and UNESCO will also be of benefit for the project and the Jaguar in the longer term. For this is where the importance of what is happening will be put into international stone.
Nepalese Version
The major points outlined on this page have been translated into Nepalese and this is available to download in document form here -->>