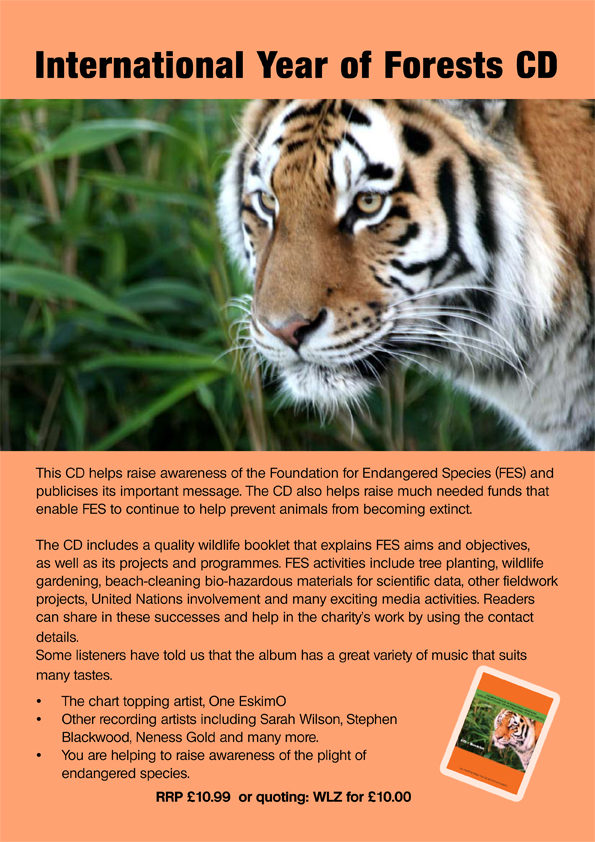 International Year of Forests CD
We have a CD of music by various artists to raise funds for the International Year of Forests to order it online make a donation of £10.99
This CD helps raise awareness of the Foundation for Endangered Species (FES) and publicises its important message. The CD also helps raise much needed funds that enable FES to continue to help prevent animals from becoming extinct.
The CD includes a quality wildlife booklet that explains FES aims and objectives, as well as its projects and programmes. FES activities include tree planting, wildlife gardening, beach-cleaning bio-hazardous materials for scientific data, other fieldwork projects, United Nations involvement and many exciting media activities. Readers can share in these successes and help in the charity's work by using the contact details.
Some listeners have told us that the album has a great variety of music that suits many tastes.
• The chart topping artist, One EskimO
• Other recording artists including Sarah Wilson, Stephen Blackwood, Neness Gold and many more.
• You are helping to raise awareness of the plight of endangered species.
RRP £10.99 or quoting: WLZ for £10.00
To order this CD online use the Donate button at the bottom of this page and confirm your order by email to info@ffes.org.uk or use our contact page.
Plant a Himalayan Rainforest
The Foundation for Endangered Species initiated the 'Plant a Himalayan Rainforest Project' in Nepal during the 2008 'National Tree Week'. So now you can 'plant' a single tree, or multiples, through your donations and contributing to this unique situation. The Foundation will use all of the donated money to create woodland and wildlife habitat.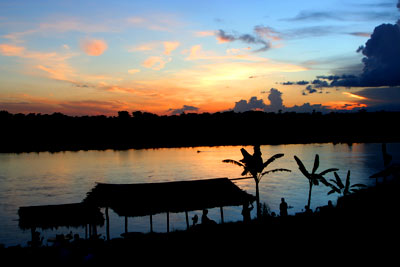 This tree planting scheme will help save Nepal's exotic wildlife, especially the base of the ecology, and thereby all biodiversity. Some animals that will benefit could include the tiger, leopard, jungle cat, different types of deer and monkey, wild boar and birds of prey.
Briefly, this scheme will also contribute to help local people live with 'Sustainable Development'; they will also become the guardians of the local wildlife established in these areas. The sites will also be used for the children's education so that schools can visit these areas for 'in situ' experience. It is education that creates the possibility for long term mind set changes. The scheme is planned to tackle some of the inter-related issues of 'Environmental Concern', which is the 4th study theme of UNESCO School's network. Andy Mydellton, who has worked in these Nepalese habitats, is also the UK Commission's Environmental Concern Adviser for the Schools Group.
These plantations will be permanent fixtures in Nepal and will exist as an everlasting legacy. Therefore if organizations, groups and businesses wish to contribute to this scheme, they too can make a difference. Those who wish to leave something in their Will are also welcome to contact us as we can always create a special plantation for large bequests.
The Foundation will issue a Certificate when the donation is used as a gift or present for any special occasion. This gift will always be 'something different' and could be a gift solving problem for any predicament. So for a donation of £10.00 for every tree we plant, you too can help us rebuild a Himalayan rainforest.
The Foundation for Endangered Species enjoys the support of the Nepalese Embassy in the UK regarding their work in Nepal, and is included as one of the British organizations on the Embassy's official website.
The major points outlined on this page have been translated into Nepalese and this is available to download in document form here -->>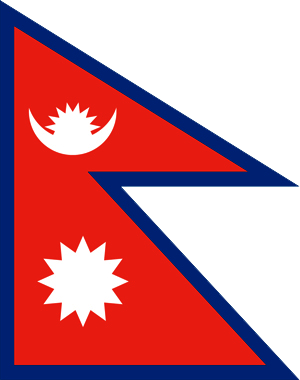 To plant a rainforest send your name, address and email details to our Contact address and use the "Donate" button below.