Ecaffes
Environmental Concern Advisor Forum of the
Foundation for Endangered Species

The Forum is for educational institutes such as schools, colleges, scouts and other groups who wish to learn and interact with topics related to the environment. Its purpose is to create international links as well as providing a platform to share information, experiences and knowledge about wildlife and conservation.
Andy Mydellton is the Chairman and the Environmental Concern Advisor for the Schools' Group of the UK Commission for the United Nations Education, Scientific and Cultural Organization (UNESCO). Ecaffes membership is open to all UNESCO groups as well as for similar minded organizations, including those who cannot or who prefer not to join the UNESCO Schools Group. However, we do advise all groups to formally join the UNESCO Schools Group whenever possible, as UNESCO membership will increase the benefits of ECAFFES.
The forum is centred on the 4th study theme of UNESCO's School's Group entitled 'Environmental Concern' -
"This theme allows students to link international issues affecting the global environment to individual, local or national realities. Within this framework, they can be encouraged to confront problems of local concern, which may lead them to develop strategies for the same or similar problems at both national and international levels. Activities in this area include studies on pollution, energy, forest conservation, marine and atmospheric research, soil erosion and conservation of natural resources, desertification, the "greenhouse effect", sustainable development, recycling "Agenda 21", etc. and ultimately on how science contributes to the future of humanity. Subsequent to reflection in the classroom, community-oriented projects are often conducted to improve immediate local needs."

ECAFFES is one of the tools that FES uses to enhance the United Nation's Decade of Education for Sustainable Development (UNDESD). Furthermore, because many of FES activities have been built into the 'Bali Roadmap' ECAFFES may well continue after UNDESD and be included with future international plans.
WHAT THE FORUM INCLUDES
It offers UK links
It also offers international links
It either links schools with schools, or institutes with other appropriate 'twins'.
It is available to all sorts of non-school groups and organizations that cannot be part of the UNESCO Schools Group.
It can help set up the project and offer continuing advise on WAFS development
The Wildlife Zone media activities help by publishing information, issues and events.
A 'blog-page' is soon to be available for sharing comments and expressing views and experiences
The Conserving Wildlife magazine is available online for all members
FES give presentations, assemblies and formal class lessons
A library of books, DVDs, CDs, records, tape recordings and videos is available for Ecaffes members.
It runs The Rhinoceros Award for Raising Awareness, known as RARA (see webpage).
Membership is FREE at the moment!
---
THE WILDLIFE GARDENING AND ANIMAL FEEDING STATION PROGRAMME (WAFS)
The Wildlife Gardening and Animal Feeding Station Programme (WAFS) is the pioneering project that can be used in a number of different ways by almost all organizations and individuals, including householders. A fuller account of how to make and use a site can be seen in the published articles (Conserving Wildlife. no 11).
WAFS
FES is the organization that made WAFS a UNESCO pilot project
FES is the organization that has formally put WAFS into Nepal for the first time.
WAFS needs a specially designated area set aside for wildlife
Some flowers can be planted with an aim to attract certain animals. One example is by planting Teazle to attract Goldfinches.
WAFS can be used as a formal educational tool in the classroom
WAFS can be used informally by schools as 'extra mural studies'
WAFS can be used for educational play.
Children can become champions, prefects, angels or guardians of animal feeding, ornithology, monitoring or making reports. Children can also express themselves with creative writing.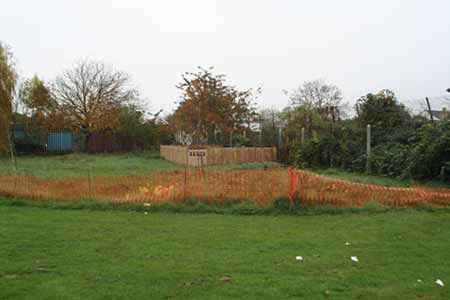 Highfield School Hillingdon
Kathmandu School, Nepal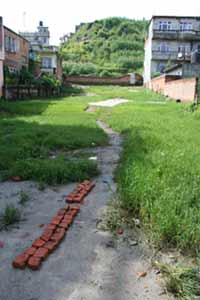 ---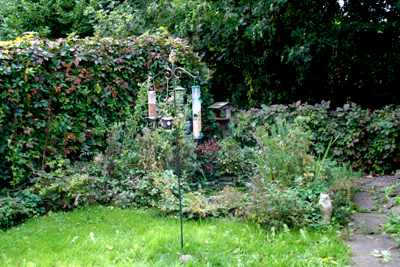 THE WAFS PROTOTYPE PROJECT
The prototype WAFS is the small piece of land at the back of the FES registered office. The area is about 7 metres square and is typical of a small urban garden. In 1986 it was changed from a horticultural garden into a WAFS site. Andy Mydellton published 3 easily understood articles that give an overview about how small areas can be used in different ways (Conserving Wildlife, edition 11).
The Millstream Fork site is full of wildlife and a full account is too lengthy for the webpage. However here is a list of salient things included in the prototype WAFS.
A replanted hedge
A still water pond>
An established moving water pond
Established flower beds with heather, wild strawberries etc/li>
Climbing plants such as honeysuckle, ivy etc that covers walls
Nettles inside and outside the garden perimeter
Herbs and spices in pots and tubs surrounding the premises.
Man made items put into the site to increase biodiversity include;-
Compost bin
Bird table
Animal feeding points
Bird boxes
Bat boxes
Ladybird and Lacewing box
Frog and Toad house
Mini-beast habitats
Garden and house walls
The nearby environment and immediate surrounding areas used to maximize biodiversity includes;-
The millstream that is part of and borders the site
Established trees
The nearby River Colne
Buildings such as the workshop and studio
A small patch of unused land adjacent to the garden fence
A new WAFS should begin with an 'environmental audit', however informal it may have to be. This is because it will reveal what is there at the beginning of the project. As changes are made, differences can be monitored and assessed. As the garden develops one can make the most out of every potential.
It is always best to assess the garden's own surroundings and environment in order to maximize biodiversity. This includes both the resident animals and visitors. By doing so, the site can be inexpensive to set up and develop. Moreover, depending on each particular circumstance, the garden should eventually be low-maintenance and ecologically sustainable. With care and attention, it could also be made to seem beautiful to the eye, although in truth, most wildlife gardens usually seem to be untidy and unkempt.
In the FES workshop there have been many wasps' nests, which was considered acceptable for this particular site. There also are the two ponds and the millstream, together with bee-attracting flowers and stinging nettles. Schools' WAFS should not necessarily replicate these particular features. Here is one example of how to categorize some garden animals found in the Millstream Fork prototype. However, the table is adaptable to the specific needs of any WAFS.
RESIDENTS
REGULAR VISITORS
RARE VISITORS
BIRDS
Robin
Moorhen
Sparrowhawk
Wren
Heron
Greater Spotted Woodpecker
MAMMALS
Pipestrelle Bats
Hedgehogs
Fox
Field Mouse
Brown Rat
Common Shrew
AMPHIBIANS
Common Newts
---------
Common Toads
Common Frog
---------
----------
INVERTEBRATES
Ladybirds
Butterflies
Dragonflies
Spiders
Damselflies
Fratilleries
Once again, different tables can be changed to reflect the following situations:-
Diurnal and nocturnal creatures
Spring, Summer, Autumn and Winter Seasons
c. More specialist groups such as butterflies and moths.
.
One can monitor the uniqueness of each site as it develops and becomes established and develops. It is worth remembering that rare animals can be very interesting and exciting; although animals such as the Goldfinch can be extremely beautiful. Moreover, what is common in the UK may well seem glamorous and exotic in Nepal, and vice-versa!
The 'Secrets of Millstream Fork' is a set of articles that are published in the monthly Gerrards Cross magazine. A few of these articles appear on the Pen and Ink Club website (create link) for a further and wider readership. These articles reveal some of the events that have happened at the Millstream Fork wildlife garden site over the last 25 years.
The major points outlined on this page have been translated into Nepalese and this is available to download in document form here -->>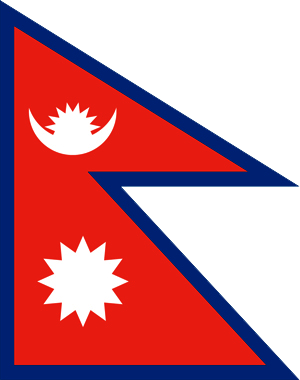 © FES
All images, tables and written material are subject to copyright law and may not be used without FES permission.